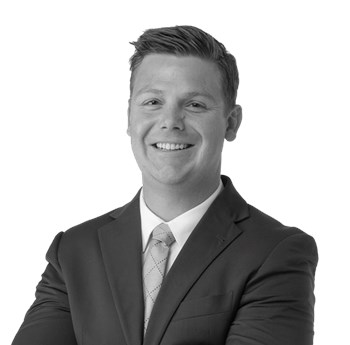 Patrick Anthon
Associate
NAI Horizon - Phoenix
2944 North 44th Street, Suite 200
Phoenix, Arizona 85018
United States
T +1 602 393 6662
M +1 602 321 3940
patrick.anthon@naihorizon.com
Specialties
Retail
Scope of Service Experience
Commitment, drive, and high levels of enthusiasm help Patrick Anthon find effective solutions in a timely manner. Focusing primarily on tenant and landlord representation in commercial retail leasing, Patrick is an Associate with the Retail Properties Group at NAI Horizon. He specializes in landlord/tenant representation; retail/restaurant leasing and sales; and locating local and national retailers. Patrick provides clients with detailed property information that fit their needs. He informs clients of market rates and similar deal structures to help them better understand any purchase or lease agreement terms. Having majored in finance, Patrick has always been drawn to helping people better understand their opportunities and options to invest their money to help them prepare for the future.
Background & Experience
Patrick grew up in St. Louis, MO, and moved to Arizona in 2010. With his father working on the development side of commercial real estate, Patrick showed an interest in the CRE industry early in his career. Patrick joined NAI Horizon in May of 2014 and is a now a partner and Associate of the highly successful NAI Horizon Retail Services Group.
Education
Patrick majored in finance and earned a Bachelor of Science degree in Finance Business Administration from the University of Arizona, Eller College of Management in 2014. He also has a minor in geography and development. Patrick earned his real estate salesperson license from the Arizona School of Real Estate & Business in Scottsdale in 2014.
Professional Associations & Designations
Patrick is a member of DCREP (Developing Commercial Real Estate Professionals) and ICSC (International Council of Shopping Centers). He is working towards his Certified Commercial Investment Member (CCIM) designation.
Transaction History
Notable Transaction History (2017 - 2018)
9Round - Thompson Peak & Bell
Lomi Poki - McClintock & Warner
ATI Physical Therapy - Ellsworth & Victoria
American Freight - 51st Ave & Bell
Intelli-School - 51st Ave & Bell
Peak Nutrition - 64th St & Greenway
Squeezed - Northsight & Raintree
Sweetest Season - McClintock & Guadalupe
Strategic Clients
Landlord Representation
DPC Companies
Fortis Development
L&R Properties
Lincoln Property Company
Macerich
West Valley Properties
Westwood Financial
Tenant Representation
9Round
Lomi Poki
Peak Nutrition
Squeezed
Sweetest Season
Varsity Tavern
What's Crackin' Cafe