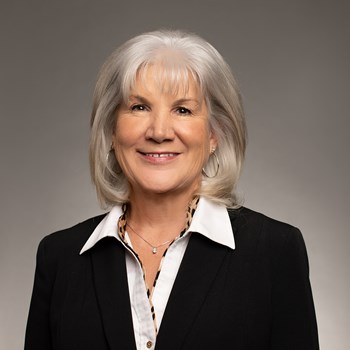 Specialties
Operations,/Brokerage/Asset Management
Scope of Experience
Terry Martin-Denning possesses an unparalleled resolve for developing and nurturing relationships and overseeing commercial real estate professionals to deliver a high level of service to their clients. She is diligent, trustworthy, honorable, and enterprising, demonstrated in her ability to lead others to success using a client-first business model. In her role as CEO and designated broker, Martin-Denning is responsible for the overall strategy of NAI Horizon. She provides leadership and direction and promotes the vision, culture, and professionalism of NAI Horizon both internally and externally. As Designated Broker, Martin-Denning manages the agents and oversees the daily transactional activity, including the review of all real estate contracts and documentation. She is also responsible for leading the development, growth, and ongoing operation of NAI Horizon's Property Management Division.
Martin-Denning is a trusted advisor. She is tenacious in providing creative solutions and strategies for business challenges. Her zest for life and gregarious approachability impact all who come in contact with her.
Background & Experience
Martin-Denning was appointed Chief Executive Officer in January 2015. She served as Chief Operating Officer for NAI Horizon from 2006 until becoming CEO. She became the Designated Broker in early 2008 and has been employed in various capacities by NAI Horizon and its affiliated companies since 1985. Martin-Denning possesses more than 40 years of accounting and operational experience. She boasts a career of more than 35 years in commercial real estate with an emphasis on brokerage, property management, asset management, receivership, development, and finance. She has extensive experience in commercial real estate, including lease and contract negotiations, property management, and receivership for all commercial product types (retail, office, industrial, and land).
In 2022 Martin-Denning was named Chair of the NAI Global Executive Leadership Board. The NAI Leadership Board provides initiative-taking leadership to increase the profitability, professionalism, technical capability, integrity, and standards of practice that reinforce and breed mutual trust and respect throughout the entire NAI organization. It fosters and promotes the activities and productivity of offices, agents, and the organization.
Education
Martin-Denning earned a Business Administration degree from the University of Montana with a major in Accounting and a minor in Psychology.
Professional Associations & Designations
Martin-Denning is visible in the business community and active in Valley Partnership, NAIOP Arizona, AZCREW, Urban Land Institute Arizona, and ICSC. She served as the 2021 AZCREW President. She was selected People to Know in Commercial Real Estate 2023 and 2022 in the Brokerage Management category. In 2021 Martin-Denning was a Globe St. Woman of Influence in commercial real estate. Under her leadership and direction, NAI Horizon received the 2018 NAI Global President's Award for Major Market in recognition of its leadership, teamwork, and performance. For seven consecutive years, from 2016 to 2022, Martin-Denning has been named to AZ Big Media's AzBusiness Leaders in the commercial real estate category.
Her philanthropic involvement includes community outreach with the Valley Partnership Community Project, Brokers for Kids, Save the Family, St. Vincent de Paul, New Pathways, and St. Mary's Food Bank.