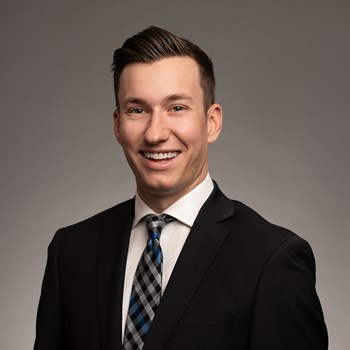 Specialties
Investment Sales
Scope of Experience
Mr. Crum joined NAI Horizon in 2017 and the Investment Services Group (ISG) in early 2018. The ISG team specializes in the sale and valuation of office and retail properties throughout the Phoenix MSA. Over the past four years, Logan has established relationships with local and national clients that are active in the western markets. The ISG team's clients benefit from detailed valuations, thorough market knowledge, and a relationship centric approach to investment sales. The ISG team also focuses in land sales, site selection, NNN retail sales, and office leasing.
Background & Experience
Mr. Crum is a Senior Associate with the Investment Services Group (ISG) and the Special Asset Solutions (SAS) group at NAI Horizon. Prior to joining NAI Horizon in Phoenix, AZ, Mr. Crum worked in commercial real estate in multiple capacities. Completing internships with NAI Black in Spokane and NAI Horizon in Tucson, he honed his skills in the brokerage and CRE research field that led to his development as a broker. Mr. Crum has since become a shareholder and committee chairman at NAI Horizon.
Mr. Crum has participated in sale transactions totaling $100 Million as a full-time broker.
Education
University of Arizona – Bachelor of Science, Urban & Regional Development (Minor in GIS)
Professional Associations & Designations
Member of Valley Partnership's 2017-2018 Advocates Class
DCREP - Developing Commercial Real Estate Professionals
NAI Horizon Committee Chairman
Transaction History
3080 N Civic Center Plaza - $8.2M - Creative Office

Deer Valley Center – $14M - 128,569 sf anchored retail

Scottsdale Raintree – $11M – 103,924 sf anchored retail

Edwards Professional Park - $10.25M – 82,226 SF

Val Vista Square Land - $7.6M – 8.6 AC

Tri-Pointe Plaza – $7.1M – 152,567 sf medical office

Corbins Electric HQ - $7.0M - 52,744 SF Industrial

2944 Plaza - $4.63M – 28,312 sf office

Chandler Medical - $4.2M – 22,500 SF

Gallery Row – $3.8M - 22,439 sf retail shops

Paradise Valley Oasis - $2.2M – 35,790 SF retail

Alma Plaza Self Storage - $1.53M – Self Storage
Strategic Clients
Structured Real Estate
Arizona Partners
C-III Asset Management
City of Phoenix
De Rito Partners
Kitchell Development Company
Park Corporation
RW Partners