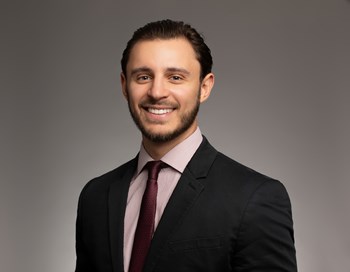 Specialties
Self-Storage
Scope of Experience
Andrew Agresta is an Investment Sales Associate with the Nunez Self-Storage Group, A National Self-Storage Investment Team. He works alongside Denise Nunez, the group's Executive Managing Director. Agresta is responsible for conducting market research and analysis to identify investment opportunities, evaluating potential investments based on financial performance, and building and managing client relationships by understanding their objectives. Core responsibilities also include managing the sales process from listing to closing, developing marketing materials and leveraging online platforms, and staying updated on industry trends.
Background & Experience
Agresta previously served as Business Development Manager for OpenTech Alliance, a tech/software company for the self-storage industry. His primary duties consisted of generating, managing, and executing revenue opportunities for the Mountain territory of the U.S. and Canada. Agresta has worked with owners and operators of self-storage for the past 3 years. His understanding of self-storage at an operational level provides a solid understanding of the business which translates into his understanding of the asset class. Prior to that, Agresta was Director of Business Development for Joseph Studios, a digital marketing firm. He was responsible for the generation of all sales revenue and for a team of 10 sales development representatives.
Education
Agresta earned a bachelor's degree in marketing and international business from the Ivy College of Business at Iowa State University in Ames, Iowa. He also attended the University of Limerick in Limerick, Ireland.
Professional Associations & Designations
Agresta is active in the community, volunteering time to the Hunger Task Force and assisting in the construction of a home in 2022. He also helped raise more than $5,000 for the Ames Animal Shelter in 2018.